ADA – Geothermal Energy Project in Kocani, Macedonia
Project Implementation Support,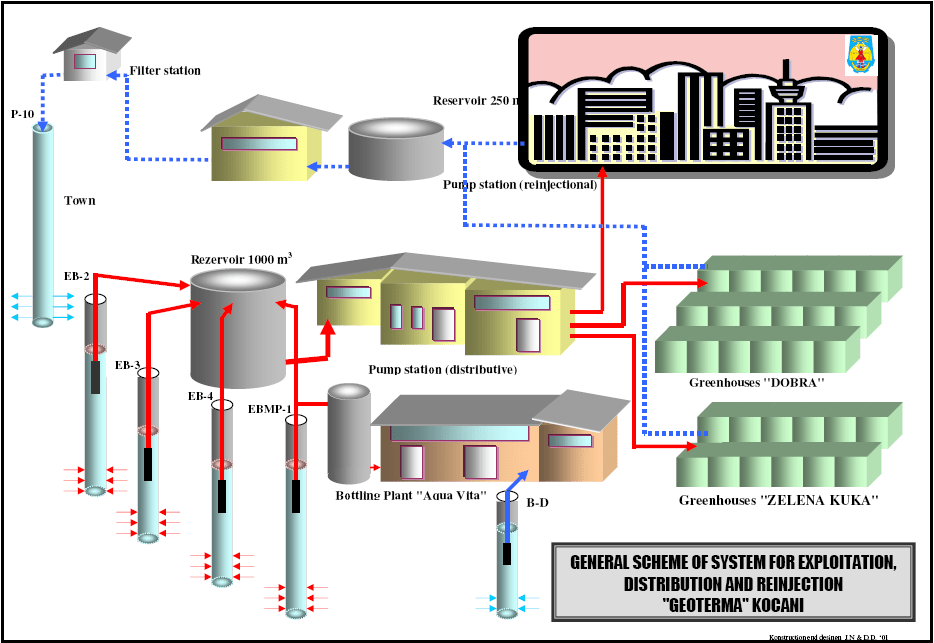 One of the regions with the highest geothermal gradient in Europe is situated in Kočani in north-eastern Macedonia. After having used around 20 million m³ of thermal water in more than 20 years, "GEOTERMA" now faces technical faults and organisational insufficiencies which require the revision of the whole system.
In Kočani geothermal energy is mainly used for heating of green houses with an increasing percentage of both private and industrial district-heating users.
To guarantee a sustainable economical and ecological project
the use of geothermal energy as a renewable energy source is strengthened and promoted
the aquifer is used in a sustainable way
the efficiency of the system is increased
the whole system is technically modernised including a monitoring system that identifies problems immediately and therefore helps to further improve the system
The following activities are undertaken:
geophysical exploration
detailed planning and submission documents
tender
drilling & construction
final inspection & warranty
know-how transfer & training of staff
Besides the technical aspects, a broad acceptance within the population of Kočani and the whole of Macedonia is aimed at by
cooperation with political decision-makers in the field of environment and energy efficiency as well as local politicians and opinion leaders
cooperation with the operator and the employees of the existing geothermal facility
respecting the needs of the neighbouring inhabitants of the facility
meeting the requirements of the present users and the users-to-be
By regarding the above-mentioned aims it is possible to significantly contribute to the future of the region by creating new job possibilities and ensuring energy supply and sustainable energy production.
An efficient geothermal system represents a clean and nature-protecting form of energy supply. Not only in a local but also seen in the European context, this leads to a decrease of emissions of greenhouse gases and contributes to a sustainable development.